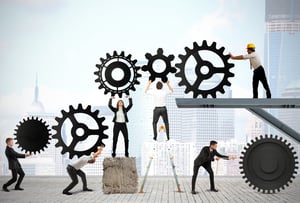 A global competitiveness ramps up the entire world with new startups. It is more crucial than ever to implement innovation into your business model and service. The contingent workforce is streamlining business management and providing worldwide solutions by reducing the cost of operational consistency.
What is The Contingent Workforce?
The Contingent Workforce is a labor pool whose members are predominantly hired by organizations on a demand basis. A contingent workforce incorporates freelancers, independent contractors, and consultants who do not fall under the category of 'Full-Time'. Instead, they are considered 'Temporary Staffing' and receive fewer benefits but still protected by labor and employment laws.
The Benefits
Contingent workforce solutions are estimated to comprise 30% of the procurement that is spent on some of the companies. Thus, representing a larger share of the workforce than any other category employee. There is a 42% upsurge in executive surveyed place and it is even stated that it will increase more in the next three to five years. Some of the benefits to a contingent workforce include:
Lowers the cost
Increases the productivity
·Offers staffing flexibility
·Shares the risk factors
Focuses on the core businesses
Operates on a basis of 24x7
How does Contingent Workforce help startups specifically?
The increase in the number of the contingent workers like Virtual Assistants, Administrative Assistant, and Virtual Assistant Services offer 'gig economy' upsurge in the business. The startup is initially very unsure of the fact about their growth in the long run. In those prime case the contingent workforce act as a catalyst to lead the start-ups to grow in their field. The specialized role of the contingent workforce helps them to proactively plan for resource requirements of their industry. It helps them in growing a cultivating mindset through the Recruitment Process Outsourcing much required. Contingent workforce helps the startups to protect each other in case of liability insurance. It provides induction to the respective company and the projects.
Contingent workforce helps in adding management structure like Offshore Outsourcing and BPO Outsourcing for focused balancing of effective working. The contingent workforce management programs bid on a mixed technology and consulting services which offer best outcomes. With the additional planned help from the contingent workforce, the unsure startups are gaining, much more prominence and popularity in the technological world.
While talking about the big companies offer the contingent workforce similarly, the Hvantage Technologies offer a contingent resource to fight against the labor expenses, uncertain market, expectations of employees and dissatisfaction. They tend to offer the flexible approach for enjoying freedom from payment, tax liability, rewards, bonus, compensation, Customer Support, assured managerial task and other infrastructures for serving the global surge of a contingent workforce at a high-ending spirit.
About the Author: Susan Smith is a branded content writer. She has an MBA in Finance and Financial Management Services. Susan is an expert in creating website and social media content, articles, and other marketing collateral for staffing companies in the Los Angeles City area.