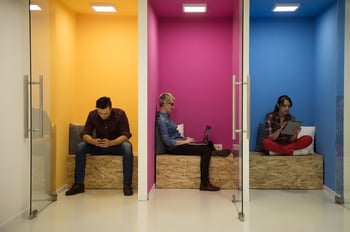 These last few months have likely been some of the most challenging that you've had to face as a business owner. The pandemic and subsequent recession have altered consumer trends, led to personnel changes, and forced creative techniques to continue capturing sales.
But, many entrepreneurs are asking: how will the business market look after COVID-19? Experts believe early planning, the use of employee health programs, and incorporation of technology will separate successful companies from those that are not in post-COVID times.
Here are some tips for preparing your own business to ensure you adapt effectively and succeed in the uncertain waters of a world recovering from the pandemic.
Here are some tips for preparing your own business to ensure you adapt effectively and find success in the uncertain waters of a world recovering from the pandemic.
4 tips to prepare your business post covid-19
Rework your business plan
Your business plan likely wasn't written to include a crisis such as the COVID-19 pandemic. Perhaps your budget didn't account for emergencies, or your market research is no longer relevant. Yet, it's still important to have a structure that matches the new business world.
Spend time reevaluating your goals, budgets, research, crisis management plans, and overall structure to ensure your organization still meets all your needs in the new climate. Then, work with a lawyer or trusted advisor to either revise or completely rewrite your plan.
Or, if you don't have a business plan at all, take this time to create one. Revisit the basics of how to start a business to be sure you cover all the crucial steps and set your business up for success in these new times.
Increase the use of digital tools
Businesses' reliance on digital tools skyrocketed during stay-at-home orders so they could stay afloat and organized, but these new habits will likely remain in customers and workers. When your workforce is back together and your business reopened, you'll need to depend on tech in a different way.
Use advanced analytics to better understand consumer trend changes. Are your customers still shopping online? Which of your campaigns is reaching them most effectively? Answering these questions will help you better adapt your business to meet their needs more effectively.
Additionally, social media can be used to strengthen your link to customers after the pandemic ends. Instead of a traditional marketing technique, leverage the fact that consumers are spending more time online. Social media has a personalized touch that allows for instant communication with and connection to your consumer base. Build out your Facebook, Twitter and Instagram accounts, enable the chat function, and monitor responses regularly to answer questions and showcase your dedication to your customers.
Utilize regular communication
In the first few months after reopening, each day is likely to be very different, presenting its own unique challenges and surprises. And, after the transparency of many businesses' messaging during COVID-19, workers and customers will expect open honesty from you throughout the process of reopening. It's critical that you emphasize regular communication throughout your business to help your team feel valued in the success of the organization, and to help you keep a pulse on your level of success.
The most important aspect of regular communication is keeping your employees updated about any necessary business shifts. Not only does this help them understand how the product they're working with every day is adapting, but it also helps them feel more secure in the stability of the company. Stay transparent; explain to them how the business is performing so they can trust that their jobs are secure.
It's also crucial to allow communication to flow in the opposite direction. Emphasize the importance of your workers on the ground, regularly informing you about the ever-changing market they're dealing with on a daily basis. This will give you valuable insights into how your business needs to adapt, and whether or not changes are successful.
Lastly, use your newly bolstered social media presence to communicate with your customers. Update them on your new hours, what steps you're taking to ensure their safety, and how your product or service has changed. Customers will appreciate transparency and will feel valued by your honesty, furthering their commitment to the brand.
Create employee health programs
Experts believe that one of the most valued benefits in an employer, post-COVID-19, will be increased health support. This doesn't just entail maintaining a clean and socially-distant office space, however.
Employees are also looking for telehealth coverage as they work remotely, educational materials on the virus and available treatments, and increased healthcare support. If you're able to invest any extra revenue into your employee health programs, your workers will feel valued and loyal to the organization. Additionally, a healthy workforce is a more productive workforce, so expanding these programs is likely to be a large investment in your business's future.
Conclusion
The business world is changing every day, and will likely continue to do so as we move out of a COVID-19 world. It's important that you're ready to update your organization and rise to the occasion to stay successful. Adapt to your business's, employees', and customers' needs, and your organization will be prepared for any unseen challenges in the post-pandemic landscape.
About the Author: Josh Daly is a business content writer with a focus on financial research. He aims to provide informed guidance to small business owners struggling through the COVID-19 pandemic.