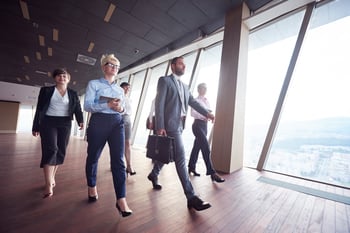 COVID-19 has clearly upended the job market and America's workforce in general, perhaps forever. But now, a few months into this global pandemic, has it upended the way workers perceive their employers?
A new Harris Poll conducted on behalf of Yoh shows that 62% of employed Americans would consider a job change in the midst of COVID-19 if they felt their employer was not sufficiently protecting workers. This means businesses who fail to take extra precautions to care for their workforce risk losing the employees they depend on most.
What do extra safety precautions look like? Providing workers with hand sanitizer, allowing employees to work from home, and enforcing social distancing are all ways to keep your employees safe and demonstrate that your company takes their health seriously.
The poll also found that 51% of employed Americans would consider changing jobs during COVID-19 to work for a company actively making a difference. While not every company has the ability to make changes to the way they operate, even small steps can demonstrate to employees that you care about the cause. Examples include adapting capabilities to create supplies that are currently in demand or donating money and necessary equipment. Workers have long valued companies that give back, but it appears that demand has only been amplified in a world where increasingly more people are in need of help.
For companies looking to hire in the midst of the COVID-19 pandemic, it's good to know that Americans may be considering a job change. In addition to those workers concerned about safety and those looking to make a difference, some are merely doubting whether or not they're in the right job. This is true for 47% of employed Americans currently working under COVID-19.
Now might be a good time to consider beefing up offerings to potential new hires. If your company already has health and safety policies, now is a great time to bring those to your employees' attention so they have all the necessary safety information and know that their company is looking out for them. If you don't already have policies in place, now is absolutely the time to create them and share details about them frequently with your entire workforce. You can also think of ways your business can make a difference, both to show current employees you care and attract new talent.
One Hire thought
Never underestimate the importance of emphasizing care and safety to your workers. If your business has high safety standards and a culture of altruism, communicating these values can boost how others view your business. This crisis is an opportunity to show your employees and potential new hires what your company is made of. If you are looking to hire, let Yoh help you find those workers considering making a change in their professional life.