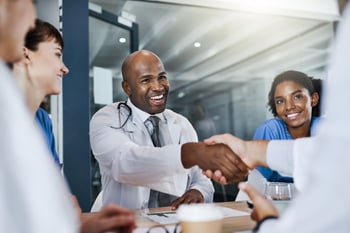 COVID-19 exacerbated issues afflicting healthcare organizations. An aging workforce, burnout, overreliance on travel nurses, and skewed geographic distribution of talent all have a part to play in explaining the hiring crisis. In addition, the growing dependency on integrated medical technologies means organizations are now responsible for ensuring existing employees are trained to develop tech proficiency. The complexion of healthcare hiring is set to undergo a monumental shift.
Considerations for Healthcare Hiring
The 'Great Resignation' has made a significant impact on the healthcare sector. Organizations therefore must adapt to reevaluate their priorities to ultimately bolster their hiring practices. Healthcare organizations can start by 'recruiting in the right places' and dive into a talent pool of qualified candidates. They should prioritize a 'culture of caring and inclusion' and introduce a comprehensive 'compensation package' to show their permanent employees their efforts are not in vain. This will have a domino effect by lessening the reliance on temp labor (travel nurses and physicians) that are extraordinarily costly. Lastly, finding the right talent partner is a must for healthcare organizations looking to attract the best talent.
1. Evolving Industry Demographics
The staffing gap in healthcare is growing. According to a report published from Mercer, demand for healthcare workers will outpace supply by 2025. As the American population grows in age, there becomes a greater need for qualified healthcare personnel. Meaning healthcare organizations must make a concise effort to retain existing employees and avoid the vicious hiring cycle. In a strong labor market, ensuring your organizations retains your best in-house talent is a strong selling point to use in your recruitment strategy.
2. Integrated Medical Technologies
Fluency in technological software geared towards healthcare is quickly becoming a requirement. Whether it be electronic health records, patient and provider portals, connected medical devices, or artificial intelligence; employees must remain technologically adept. As a direct result, healthcare organizations will actively seek tech talent to bridge the gap between patient care and technology.
---
Download 'Hiring in Healthcare' to Navigate the Labor and Organizational Challenges Impacting this Rapidly Shifting Industry!
---
3. Patient Centered Care
The advent of telehealth and changed mindset surrounding treatment has ushered in a new way of thinking to address value-based care and compensation. Newer generation are committed to bringing health disparities and unequal access to healthcare for disadvantaged communities to light. Employees will seek civically engaged organizations that align with their values; along with companies that offer the best employee experience and compensation package.
Final Takeaways
Hiring trends in Healthcare have been massively disrupted. The changing complexion of healthcare hiring can be attributed to a variety of influences. Pairing your healthcare organizations with a staffing partner that possesses a deep understanding of the healthcare space is vital. At Yoh, we can help guide your journey to hire and retain talent to advance all aspects of your organization's operations. Download our eBook to garner more insights into healthcare hiring trends.