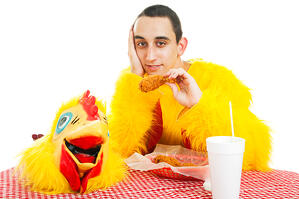 The school year is finally over! Luckily, my two teenage daughters found summer jobs. Both are customer facing and I am thrilled. I know first-hand the merits customer service experiences will add to their career long-term.
These early jobs are the footings for a solid foundation of good client service. Looking back, all my early jobs were client facing. Little did I know how it would benefit me in the future. There are far too many lessons to recount, but a handful stand out as the big game changers.
In seventh grade my brother and I were newspaper carriers for the Washington Post. We delivered papers to the doorstep at 5am, even on holidays. We were twelve and thirteen, but it didn't take us long to learn that people appreciated their paper delivered to their doorstep, rather than having to walk out to their sidewalk, driveway, or bushes.
Lesson 1: Don't waste time throwing in the general direction of great client service. You know your service level targets. Deliver it right to the door!
The bulk of my teenage income came from babysitting. I earned the Red Cross Babysitter Certification through the local fire company, and promptly delivered my hand-made business cards to every neighborhood family. I was in high demand. My customers were loyal because I arrived on time and never cancelled.
Lesson 2: Clients will be loyal partners if you are reliable and trustworthy.
My babysitting customers also appreciated that I washed the dishes they left behind, something the other local babysitters did not do.
Lesson 3: Go the extra mile. Extra touches distinguish you from everyone else.
At a family-owned bakery, I enjoyed everything from slicing bread to helping customers choose pastries. This was a very busy shop and I learned if you immediately acknowledged your customer's presence and told them you would be right with them, customers typically did not mind the wait.
Lesson 4: Reach out to the hiring manager as soon as the job is posted to acknowledge the opening and schedule a meeting. That meeting may not be immediate, but your attention was.
Sears taught me the customer is always right. As a sales clerk I was reminded frequently. This may be the most important lesson I learned.
Lesson 5: Your client's perspective is their reality. Take it seriously and find the gap. Would information or data influence their conclusion? Maybe the gap is simply lack of communication.
By the time I was a senior in high school I had moved on to a Marriott Hotel. Marriott insisted we use the name of the guest three times during their restaurant experience, first when they arrived for their reservation, second when we sat them, and third when we wished them a good evening as they departed. I learned that using their name makes your attention seem undivided and personal. It begins and ends the experience on a positive note.
Lesson 6: Give your clients your full attention. Make sure they know you listen. People who are multi-tasking may not be able to ask questions or offer solutions because their minds are preoccupied with other tasks.
It is true I learned these lessons as a teenager, making mistakes along the way. They stuck with me and I have used them consistently throughout my career to build effective client relationships. I call them game changers because integrating them into my client strategy has a positive impact my relationships.
So this summer when you see a teenager selling popcorn at the theater, ringing up your groceries, or refilling the soft serve machine, think of your own hard knock experiences and how they helped you grow. And when you walk into a flower shop, or order a Panini at a cafe, those might be my daughters serving you. Give them a smile and know that they are tucking their experience with you into their toolkit!
This blog was written by Jennifer Klingler. Jennifer earned a Bachelor of Science in Business Management from the University of Maryland. She thoroughly enjoyed the thrill of the hunt in executive search and managed her own successful search firm for over 15 years before joining Yoh in 2008. Jennifer is currently a Recruiting Operations Manager for Yoh RPO, where she is responsible for program delivery, expanding business and deepening partnerships.