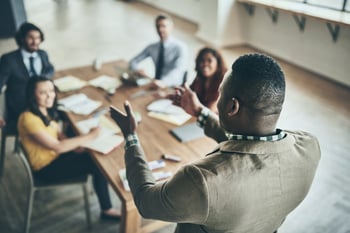 The workforce power dynamic is shifting. Evidence of the changing power dynamic is revealed in the growing push for unionization. Labor has the leverage in the current talent war. Organizations worldwide are looking for adaptable methods to retain top talent in a shifting workforce paradigm.
In this episode of Yoh's Back to Work podcast series, our host, Joe McIntyre, and President at Staffing Industry Analysts, Barry Asin, discuss leadership in the workspace, the changing workforce power dynamic, and strategies to address talent retention.
Talent Retention
There isn't a singular answer on how to improve talent retention. A combination of increased pay, flexible work model, great benefits, and employee engagement are all contributing factors. Additionally, employees value their voice being heard and respected in the workplace and are even willing to sacrifice greater pay for these types of environments.
Younger employees are actively seeking organizations that are civically engaged and show a genuine commitment to improve the world. Gone are days where employees' desires were solely centered around company profit. Instead, employees today are leveraging their skillset to pair themselves with an organization that fits their unique desires.
The Future of the Workplace
The growth of flexibility in workplace models is evident. Barry Asin reflected on the greatest points of optimism and concern in the workplace going forward. The greatest point of optimism he believes is tech innovation; in improving hiring and onboarding practices as employers vie for the best talent. The greatest point of concern is the reluctance to accept the new normal of flexible working models. Pandemics have historically changed the complexion of society. The Bubonic Plague ended feudalism ushering in the middle class. The Spanish Flu introduced the era of the Roaring 20's marked by globalization and a surging economy. The COVID-19 pandemic has changed the complexion of workforce practice, by normalizing the 'remote' environment.
Final Thoughts
In today's climate, there are a plethora of great measures to identify a great organization. Employers cannot simply post a job and expect talent to 'flock'. They need to take a systematic approach to hiring and retaining talent. Listen to the full podcast episode to learn more about the shifting workforce paradigm.