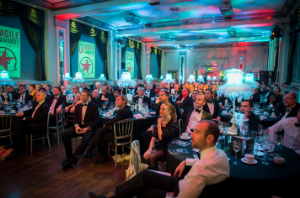 Agile methodologies are used around the world to innovate the software development processes. The widespread adoption of this development strategy continues to catch fire; largely due to its collaborative and nimble nature. But, nowhere are Agile practices more revered than at the annual Agile Awards.
Presented by Yoh, the Agile Awards is the only event of its kind. This annual red carpet gala was developed to reward not only those actively progressing the field of Agile development, but to recognize the Agile community as a whole. Winning a coveted Agile Award is not only a nod from fellow peers, but serves to publically recognize the work of the entire Agile community.
Currently in its sixth year, the 2015 Agile Awards was recently announced. This year's award ceremony will take place at the Montcalm London Marble Arch - Grand Ballroom and include eleven brand new categories. With sixteen categories in total, individuals and/or teams in the Agile community will have the opportunity to nominate or be nominated in a variety of new and existing categories. Some of last year's categories include Best Agile Newcomer, Best Agile Coach or Mentor, and Best Use of Agile in the Public, Private and Non-Profit sectors.
Also unique to this year's award ceremony, is the newly launched Agile Awards portal. Designed to foster collaboration and communication in the Agile community, the dynamic portal will include Agile educational information submitted by community members, nominees, and sponsors. Additionally, visitors can read and sign up to receive the latest Agile Awards announcements; including:
Agile Awards Venue and Event Date
Access Nomination Details and Submission Forms
Shortlist of Nominees (after judges review)
How To Purchase Ticket
2015 Celebrity Host & Entertainment
Official Agile Awards Charity & Keynote Speaker
Official Sponsors and Sponsorship Details
To learn more about the Agile Awards, visit the Agile Awards portal.
This blog was written by James Parkin, IT Business Director for Yoh UK and a man with a passion for all things recruitment related (sadly). Having spent 11 years in the UK recruitment industry he has seen the markets change and change back again as well as fads come and go. His responsibility and passion is driving the strategy for the UK business for Yoh and creating a service that our clients and candidates enjoy using. He is also one of the organisers of the annual UK Agile Awards.