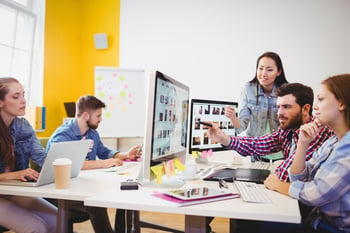 The first thing that comes to mind when you hear 'sales pitch' is probably a fancy-dressed person speaking in front of executives. This is accurate in a way, but it isn't necessarily the case. More importantly, pitches are more complicated than just dressing up and reading the presentation on the screen.
As the modern world opened doors for many sales opportunities, businesses need to prepare their pitch more often than ever. This can overwhelm the team and put them on a creative block. When they're dealing with a difficult pitch, it can become impossible to finish it on schedule.
But not if they have the right tools at their disposal.
Best Tools for Teams to Use When Preparing a Pitch
Since the quality of your team's pitch can determine the future success of your company, this isn't something to be taken lightly. In the list below, you'll find the must-have tools for preparing such essential business documents.
Best for creating amazing sales pitches and presentations - Piktochart
Piktochart is a tool that's been growing in popularity in the past couple of years because of the myriad of features it offers. This tool is a must-have for meetings, presentations, sales pitches, and better team communication. With Piktochart, users can do the following:
Create timelines together with team members regardless of location
Use quality templates to customize a ready presentation in minutes
Pick from a vast library of design components and graphics for better visualization
Organize all templates, presentations, and projects in easily accessible folders
There's no need to spend hours tweaking every little detail on complicated platforms like PowerPoint with tools like this one. Within minutes, users can create professionally-looking sales pitches, presentations, keynotes, HR presentations, product updates, or webinar decks.
The platform is so simple; you can use it without any experience or training. Experts have already designed professional templates, and the many features allow you to tweak them and make them as original as it gets.
When you've finished with your creation, you can present your slides online directly through the platform. You just need to switch to presentation mode, and you're ready. If you prefer to keep it and use it later, you can also download it in a .pdf or .ppt format and share it online or offline with stakeholders and team members.
Best for presentation sharing and inspiration – SlideShare
SlideShare was acquired by LinkedIn back in 2012 for $199 million, which says a lot about this tool on its own. This is a popular slide hosting service used by teams that need a simple way to share their presentations online.
Founded in 2006, SlideShare has spent decades helping professionals get inspiration through other people's content and share their creations with a wide audience. Users have uploaded over 9 million presentations, ranking it among the most visited sites for professional content.
Once your presentation is ready, this is the tool to use to get it out there. SlideShare doesn't just enable sharing presentations with other team members and interested parties, but businesses also use it to spread their content across over 1.4 million unique domains.
As the LinkedIn CEO Jeff Weiner says:
"Presentations are one of the main ways in which professionals capture and share their experiences and knowledge, which in turn helps shape their professional identity."
By sharing presentations on SlideShare, professionals can find new connections and gain valuable insights into becoming better at their careers. It's precisely why LinkedIn chose to purchase the brand.
Users can easily upload their presentations, share them as links, or embed them into web pages on SlideShare. Those with access to them can rate, share, and comment on the presentations. For businesses, this means that quality content has great virality potential.
If your business has a LinkedIn account, you just need to add this app to it to access it at all times. Team members can also view featured presentations in the same industry for inspiration, especially when they're struggling with creative blocks.
Best for sales acceleration - Showpad
Showpad is relatively new but already very popular. This is a sales enablement tool that businesses use to simplify the collaboration between their team of marketers and salespeople. To put it simply, Showpad is a content-sharing platform where users can create, track, and share their creations.
In Showpad, you can simply upload the pitch idea and work alongside many team members in making them meet everyone's needs. Both the marketing and sales teams can collaborate or pitch decks on the fly and reduce the collateral. Since lack of communication is the cause of many issues with business documentation, many use this tool to adjust to everyone's expectations.
One of the main ideas behind Showpad is to allow the team to deliver the content to sales representatives, making it possible for them to present more accurate pitches to the actual customer. To be more, the marketing team can use the platform to track the result of the pitches.
Best for content editing - Grammarly
Grammarly is the favorite editing tool for students, individuals, as well as professionals. It's convenient, highly available on all devices, and extremely easy to use. The best part is, of course, its ability to edit and proofread content and detect even the tiniest errors.
The human eye can easily miss errors, especially when the people working on the pitch are overwhelmed by its complexity. This is why most teams these days use such tools to proofread and edit their work. Professional content packed with errors is never a good idea.
Some of the best features of Grammarly include:
Suggestions for content improvement
Grammar, spelling, and punctuation editing
Built-in plagiarism detector
Google Docs integration
Because of its advanced features and amazing detection, Grammarly is now present everywhere. You can find it in Google Chrome as an extension while creating content in Google Docs and even on WhatsApp. If your team uses a platform that doesn't support this tool, they can easily paste the document or content into the web app and check for mistakes. It takes seconds to get the results – and they are far more accurate than ordinary checkers.
There are two versions to opt for – paid and unpaid. The free version does a great job detecting mistakes and making small suggestions in terms of spelling and grammar alternatives. The premium version is definitely worth its price since it provides more advanced suggestions for:
Tone adjustment
Fluency
Clarity-focus rewrites
Word choice
These suggestions include a full explanation of why the rewrite is suggested in the first place. Also, the plagiarism detector is only available in the paid version.
Best for blocking distractions - Freedom
One of the main reasons for the loss of focus and creativity in individuals and teams is distractions. Those endless calls and notifications on people's phones can distract everyone. Even when we are at our most productive stage, a simple 'beep' from a colleague's phone can make us lose focus.
When dealing with difficult pitches and projects, eliminating distractions is even more critical.
Today, the biggest distraction of them all is technology. That's where Freedom comes – it can help your team get through a difficult task at optimal conditions. Unlike most blockers that work on a single device the user is currently using, Freedom blocks distractions on all devices simultaneously.
This way, team members won't get the notification they missed on their phones on their laptops. If they start a session, all distractions will be blocked everywhere.
This tool lets you set up as many blocklists as you need and restart them when the project is completed. It's similar to a lockdown mode, but for technology only. If you still need those notifications to come but are too distracting, Freedom offers optional focus sounds such as background noise or nature sounds.
The one disadvantage that's worth pointing out is that there isn't a long-term free version available. Even so, you can use a limited trial and run six sessions distraction-free. If it works, you can then purchase their affordable premium option, starting at only $6.99 per month.
Best for team management – Slack
To work without glitches, eliminate errors, and boost collaboration, teams worldwide use management tools. Tools like Slack can do a lot for the productivity of the team. The simplest features like tracking apps and task boards can help teams avoid mistakes and misunderstandings and keep track of everything.
A lot of the time, a pitch is hard to complete because you can't get your team under control. Slack is ideal with this because of its features, the best of which are:
Teach chat available for communication
Integrations with Box, DropBox, and Google Drive for easy document sharing
Reminders available
Tags like @everyone (used to send a message to all included parties)
Wrapping up
Coming up with an effective sales pitch is not easy, and neither should it be taken lightly. A lot depends on this, which is why every pitch your company makes must be the very best it can be. Thanks to your great teams and tools like the above, you can certainly make it happen.
About the Author: Nadica Metuleva is a freelance writer who's passionate about creating quality original content. She holds a Master's degree in English teaching and a Bachelor's degree in translation. With seven years of experience in the freelance writing industry, Nadica has become proficient in creating content that captivates the audience, drives growth, and educates. You can find her on LinkedIn.