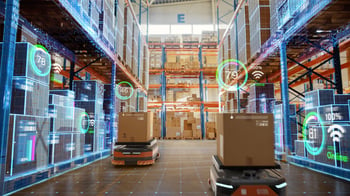 Emerging tech innovations continue to influence new industries in unprecedented ways. Sustainability, travel, supply chain, and IT solutions are spaces that have experienced massive growth with the integration of tech.
Tech firms are sprouting up across the globe. Finding your niche in the market can be achieved by seeking the proper channels to research and explore nuanced topics. Technology has had a colossal impact on a variety of different industries. Let's take a glance at some of the sectors that tech has impacted.
5 Industries impacted by tech innovation
1. Customer Relationship Management
Automation in tech has allowed customer relationship management firms to thrive. Industry giants, Oracle and Salesforce, continue to utilize cloud applications to improve sales and marketing processes. The comprehensive cloud solutions offered within the CRM software can manage and analyze the entire life cycle of the customer journey. By employing a data-driven approach supported by cloud technology, CRM processes can align sales and marketing in congruous.
2. Travel
The integration of tech advancement has impacted the travel industry. Contactless payment and automated booking software have allowed travel agencies to provide a speedy experience for their customers and allowed agencies to eliminate a paper trail. In addition, artificial intelligence has been employed to improve safety measures upon boarding to check bags. AI has been trained to detect suspicious items that might be cause for concern.
Biometric technology has been introduced at airports to verify a person's identity and detect fraudulent documentation. Facial identification technologies could completely replace manual physical identification cards. The future of air travel will rapidly transform to improve the customer experience and safety measures.
3. Sustainability
Global carbon emissions are a problem that humanity desperately needs to address. Renewable energy has provided an alternative source of energy to fossil fuels. Technology has been pivotal in scaling resource allocation and limiting the wastefulness of critical resources to help the environment. Analytical tracking software has been deployed to follow the emissions of harmful greenhouse gases to shrink a company's carbon footprint. Many companies have committed to achieving a 'carbon neutral' future, and technology has been the main driver of these ambitions.
4. Supply Chain
The pandemic has had a significant impact on typical supply chain processes. Companies are actively seeking a streamlined approach to alleviate bottlenecks caused directly by the arrival of the global pandemic. Technology has been used in transporting goods to reduce manual processes prone to human error. When goods leave the warehouse, barcodes are scanned to register that the particular item is in route for delivery. Transportation and e-commerce companies like FedEx and UPS allow users to track the shipment progression digitally. Self-driving trucks are yet to be launched globally, but future transportation could be marked by artificial intelligence solely operating vehicles.
5. Information Technology
In a data-centric era where information is considered the most valuable asset in the world, it comes as no surprise that technology has had a monumental impact on the information technology world. As data and information rise in value, so does the necessity of proper cybersecurity measures to protect that sensitive information. Cybersecurity professionals are using artificial intelligence to detect and thwart cyber attacks. Phishing and malware attacks have become more prevalent, so firewalls and multi-factor authentication have risen to prominence.
Behavioral Analytics has also seen a transformation with the introduction of technology. This unique sector tracks consumers' behavior and investigates unique patterns to reveal new insights about buying habits on digital platforms. Additionally, gaming developers can apply behavioral analytics to understand existing interaction patterns. Behavioral analytics is powered by artificial intelligence to generate valuable insights.
Final Thoughts
Few industries are as crucial to the economy as technology. Countless branches of the sector have an impact on many different facets of everyday life. Innovation is fueled by technological achievement. As tech influence continues to grow, industrial improvement follows. Processes, insights, and sustainability will continue to advance at a rate linked to technological growth.
About the Author: Megan Burke is a tech savvy professional with a creative edge. She is a creative business professional with 15+ years of experience in the international marketing and public relations industry.