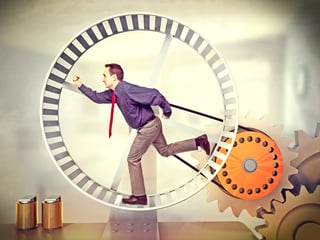 Investing in an Enterprise-wide CRM (Client Relationship Management) solution is a no-brainer. It streamlines your client and sales data to bring more efficient business practices across your organization.It can also increase your sales, help improve client relationships and provide transparency in large organizations that may be spread out across the globe. But after you go to bid and choose a CRM solution like Salesforce, implementation can be a little more difficult than you think.
In order to do an enterprise-wide implementation, you need to take a step back and analyze your business model. You will need to translate it to a CRM like Salesforce so that it will not require restructuring in 5 years. On the surface, it can look like it's very easily customizable for your organization, but you can't predict how much work it really takes to make sure you are using a CRM tool like Salesforce to its maximum potential.
Do you understand the best practices for building out a complex CRM solution like Salesforce? Do you have the capacity to engineer and design an intelligent solution?
4 reasons why your CRM Isn't Working
Preparing to implement a CRM solution like Salesforce? Here are a few hiccups that you may encounter along the way, and some quick tips to prevent them.
Poor User Adoption
Introducing new software to teams can be very complicated. New things and changes can scare people. You will have people who love the idea of new software, people who refused to use it, and everywhere in between.
Employees can be excited about change if they are able to understand and see the advantages of the tool. Create customized reports and dashboards that can be completely automated. That way the team will see how easy it is to use data that was complicated to access before. There are so many specific tools and ways that you can configure Salesforce based on your teams current processes.
Set up personalized training programs. and have them often. Create rewards programs for those who choose to embrace and adopt the tool early and make them advocates. Executives and managers should be able to monitor the adoption, so make sure you have dashboards set up so they can instantly see the metrics of the implementation and how it's benefiting the organization.
Disorganized Data
According to Software Advice, 74 percent of CRM users report seeing improved access to customer data through their systems. But that point can be moot if you don't start off on the right foot.
If your CRM data is inconsistent (or worse, missing), you can't transform that data into revenue. Experian reports that companies lose 12 percent of their revenue on average to bad data.
It's important to start your data cleansing before you import the data into the system. Ask your team how the data is being tracked now and set up a methodology to clean that data that is easy for your users. Have them examine and analyze the data. Dedupe records. Get rid of customers or prospects that you have been out of contact with for a long time. Get rid of old employee information that isn't useful. It's like cleaning out your house, that dress or suit that has been collecting dust in your closet is something you can get out of your house, no matter how many times you told yourself over the past 10 years you were going to wear it.
Once the CRM is set up, set up processes to enter the data so that it can continue to be clean. Make them strict, yet simple. For example, there are ways to manage data entry into a Salesforce CRM. Built-in Validation and Workflow rules will ensure that only "healthy' data can enter the system. In certain situations Salesforce can be customized in the way to allow employees to enter information into a spreadsheet and have a Salesforce connector automatically upload it into the system.
Third Party Integrations
CRMs like Salesforce have complex ways to ingrate different third party systems that you may be using internally, or systems that you may need. These can include Legacy Databases, Marketing Automation Systems, Documentation Management Systems, Finance Systems, etc.
Though Salesforce may make it seem easy, integrating third party software without the proper knowledge and analysis can lead to a variety of issues. Is the data being transferred correctly? If something goes wrong, who will fix it? Often you will have to set up a different team to manage a software integration. This can include engineers to make sure the infrastructure is right and project managers to make sure the timeline and metrics of success are being reached.
Over-Customization
CRMs like Salesforce make sure their system is infinitely customizable. It allows you to do a lot without having to write code . This includes, but not limited to: fields, forms, processes, and workflows. This will ensure your system is tailored to your specific needs and operations.
Customization is great, but untrained or uninformed users can end up making their system too complex. You can get carried away with more options than you actually need. It makes those options harder to train your staff on and harder to monitor. Only add on what you need. The less the better for a new integration if you are going at it alone. If you find that you need more customization moving forward, reaching out to a trained rep who specializes in coding your CRM will make all the difference.
Though a CRM like Salesforce can make business operations easier, keep these potential issues in mind as you move through your implementation process. This way you can head off any problems before they start. If this seems too overwhelming for you, there are certified Salesforce Professionals out there to help you get through it.
Looking to contact a certified Salesforce Professional? Fill out the form below to talk to a real, live human!
About the author: Boris Krasko serves as the Salesforce Practice Lead and is responsible for performing high-level Salesforce implementation and administration tasks, from business process consulting to identifying challenges to provide exceptional design, development and deployment solutions. Prior to this role Boris has served as a Salesforce Solution Architect in the higher ed industry for over 5 years. He has a Master's degree in Integrated Marketing from New York University.