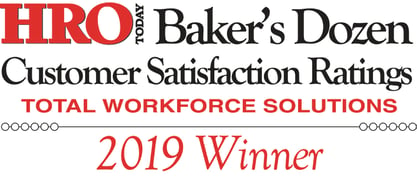 PHILADELPHIA, PA – January 22, 2020 – Yoh, the leading international talent and outsourcing company owned by Day & Zimmermann, has earned top-three placement as a provider of Total Workforce Solutions in HRO Today's 2019 Baker's Dozen Customer Satisfaction Ratings. Yoh has been recognized as a leader in Total Workforce Solutions each year since HRO Today created the section in the Baker's Dozen ratings in 2018.
The Baker's Dozen Total Workforce Solutions recognition is given to providers that had both Recruitment Process Outsourcing (RPO) and Managed Service Program (MSP) clients that participated in the Baker's Dozen process in 2019. Baker's Dozen respondents that indicated they use the same provider for both contingent and full-time employee needs were asked a series of questions pertaining to Total Workforce Solutions. These survey results were then combined with the relevant components of the MSP and RPO study findings and consolidated into one data set.
"As a company, Yoh has been helping clients manage their external workforce for decades. With that experience comes a keen sense of how talent can be successfully managed to deliver a true competitive advantage in what has become an increasingly complex talent landscape," said Kathleen King, Yoh Senior Vice President, Enterprise Solutions. "Our recognition as a top provider for Total Workforce Solutions speaks to the depth and breadth of the services we provide, and the dedication, skills and talent acquisition expertise our teams bring to clients every day."
The Baker's Dozen Customer Satisfaction ratings are based solely on customer satisfaction surveys conducted directly with RPO and MSP buyers through an online survey distributed by HRO Today. The results of the surveys are analyzed across three subcategories: service breadth, deal sizes, and quality. HRO Today uses a predetermined algorithm that weighs questions and categories based on importance and calculates scores in all three subcategories as well as an overall score.
Yoh's integrated workforce solutions, including its RPO and MSP offerings, bring a suite of services that together form a holistic approach to different types of talent coming into an organization. Yoh's deep experience in workforce solutions includes partnerships with some of the world's largest companies, including work with many Fortune 100 and Fortune 500 companies. Earlier this year, Yoh was also featured as a top provider of MSP and RPO services by HRO Today, achieving five consecutive years of recognition in the RPO field and nine consecutive years in the MSP field.
"While we say the only way to deliver top-notch results in workforce solutions is by having the best people in the business to make it happen, our consistent recognition on the Baker's Dozen lists wouldn't be possible without the longstanding, high-touch relationships we have with our clients," said King. "We thank each of them for inviting us to be a part of their talent and for trusting us to deliver the best, most efficient talent solutions year after year."
For more information about the 2019 Baker's Dozen Customer Satisfaction Ratings, visit www.HROToday.com.