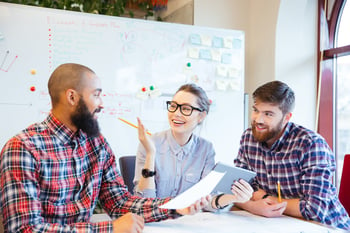 As the U.S. economy continues to rebuild in the aftermath of the COVID-19 pandemic and related lockdowns, the Worker Confidence Index (WCI) increased again in Q2, reflecting a growing sense of stability among American workers.
In Q2, the WCI increased by 8.5 points over the previous quarter to reach 111.7. The index, a survey of U.S. workers from HRO Today Magazine and Yoh, the leading international talent and outsourcing company owned by Day & Zimmermann, gauges full-time workers' perceptions of four key aspects of worker confidence: the perceived likelihood of job loss, the perceived likelihood of a promotion, the perceived likelihood of a raise and the perceived overall trust in company leadership.
Signaling a continued strong economic recovery, all four of the indices that make up the WCI increased in Q2 2021 compared to the previous quarter. The Likelihood of a Promotion category increased the most significantly, up 15 points to 133.8 in the second quarter of 2021. Workers' perceived likelihood to receive a raise increased by 14.6 points to 117.5. The Job Security category remained largely unchanged, increasing only by 1.6 points to 85.8. Trust in Company Leadership increased by 3 points to 109.9.
Despite overall continued growth, reported confidence levels varies among different age and racial demographics. Confidence in job security remains lowest for Black Americans and younger workers. Black Americans concern over job security increased by 13%, the most out of any racial group, and outpacing Hispanics who were previously carried the greatest concern.
"It has been an undeniably challenging year and a half for workers, but as the country recovers from the pandemic we are pleased to see continued growth in worker confidence, an important indicator of purchasing power and more," said Kathleen King, Senior Vice President of Enterprise Solutions for Yoh/DZConneX, "While Q2 findings were largely positive, they also exposed some gaps in confidence that HR and hiring managers should address by making a concerted effort to develop plans to engage employees who are most vulnerable and likely to feel insecure."
Key takeaways of the Worker Confidence Report include:
Women are feeling more confident about getting a raise.
While all respondents reported feeling more likely to receive a raise compared to Q1 2021, women's confidence grew at a faster rate than men. Women's confidence in getting a raise increasing by 5.3 points to 38.4 compared to men's confidence which grew 3.0 points to 26.5.


Higher income workers remain at the top of income scale over job security concern.
Survey findings showed that almost a quarter (23.8%) of employees making $100,000 or more feel they are at a higher risk for involuntary job loss than any other salary bracket. Those making $35,000 or less had the second highest concern levels over job security (18.6%).


Trust is key.
The study shows that less than one-half of respondents (47.4%) reported trust in company leadership. Men (52%) are more likely to trust their company leadership than women (43.2%). This trust gap underscores the importance of increasing transparency in company leadership.
To view the entire study, please visit, www.Yoh.com.
ABOUT YOH
For more than 75 years, Yoh has provided the talent needed for the jobs and projects critical to our clients' success. Our Specialty Practices recruiting experts find high-impact professionals in Engineering, Health Care, Life Sciences, Information Technology, Interactive Entertainment and Telecommunications. For clients with workforce management needs, our DZConneX Total Talent Solutions offering delivers large-scale workforce solutions, including Managed Services, Recruitment Process Outsourcing, Direct Sourcing, and Advisory and Consulting Services. Yoh is part of Day & Zimmermann, a $2.4 Billion USD services company, and benefits from more than 100 years of Day & Zimmermann's experience managing and solving complex talent challenges for some of the world's leading companies. For more information, visit www.yoh.com.