Collective Improvements in Perceived Likelihood of Promotion, Perceived Likelihood of Raise & Overall Trust in Company Leadership Temper Perceived Job Security Concerns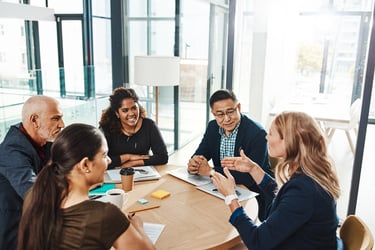 PHILADELPHIA, Pa. - October 2022 – In spite of renewed concerns regarding inflation and a volatile stock market, the U.S. Worker Confidence Index™ (WCI) gained tremendous ground in Q3 2022, increasing 9 points from 103.4 to 112.4 compared to Q2. The WCI now sits at the highest point it has been since before the pandemic. The WCI, a survey of U.S. workers commissioned by HRO Today Magazine and Yoh, the leading international talent and outsourcing company owned by Day & Zimmermann, gauges full-time workers' perceptions of four key aspects of worker confidence: perceived likelihood of job loss, perceived likelihood of a promotion, perceived likelihood of a raise and overall trust in company leadership.
At 112.4, this is the highest point the Index has reached since Q1 of 2020, which hit the exact same figure at 112.4. The significant jump experienced by the WCI is due in large part to marked improvements made by three of the four constituent indices, including perceived likelihood of a promotion, perceived likelihood of a raise and overall trust in company leadership. Workers appear most optimistic about their compensation prospects, as perceived likelihood of a raise increased a staggering 19.1 points from 103.2 in Q2 to 122.3 in Q3. The index, which saw the greatest increase in Q3 among all four indices, is now valued at the highest ever recorded since the WCI's inception. Perceived likelihood of a promotion experienced a modest gain, increasing 14.9 points from 115.5 in Q2 to 130.4 in Q3. Overall trust in company leadership rebounded slightly, increasing 5.4 points from 98.5 in Q2 to 103.9 in Q3.
Perceived job security was the only index to take a hit in Q3, dropping a slight 3.2 points from 96.4 in Q2 to 93.2 in Q3, with 14.8% of workers believing they will lose their job or see their job eliminated in the next 12 months.
"This quarter's WCI performance is a much-needed beacon of hope amid the less-than-positive economic indicators that have contributed to so much unease over the last few months," said Emmet McGrath, President, Yoh. "However, employers must not lose sight of the challenges facing their employees – and themselves. As rampant inflation continues to put a strain on workers' finances and a tight labor market continues to leave companies in certain industries under-resourced, it's important for employers to implement strategies that maximize employee satisfaction and retention. At the same time, leaders must remain cognizant of the very real potential for financial instability in the near future. If today's significant layoffs in the technology space and constant discussion about a potential recession are any indication, employers would be wise to proactively prepare for such volatility while remaining transparent with their employees in an ongoing effort to promote trust in their workplaces."


Other key takeaways from the 2022 Q3 Worker Confidence Index™ include:
Confidence in job security varies considerably by age.

As in quarters past, older workers did not signal as much concern regarding job security as their younger counterparts. Only 2.8% of workers aged 65+ expressed a fear of losing their job, compared to 26% of those aged 18-24. Workers aged 55-64 expressed the greatest increase in concern, as the proportion of those in fear of losing their job rose from 4.4% in Q2 to 8% in Q3 – the highest percentage that has been recorded for this age group to date. Interestingly, workers aged 45-54 indicated a decrease in concern, as the proportion of those in fear of losing their job fell 4.9 percentage points from 18.4% in Q2 to 13.5% in Q3 – the lowest percentage that has been recorded since the beginning of 2020.



Younger workers once again more likely to anticipate a promotion.

After expressing a precipitous loss of confidence in Q2, workers aged 25-34 saw the largest boost in confidence in Q3, as the proportion of those believing they will receive a promotion increased 12.5 points from 29.4% in Q2 to 41.9% in Q3. This represents the greatest amount of confidence expressed by this age group in 2022. Workers aged 18-24 did express a drop in confidence of 6.5 points from 43% in Q2 to 36.5% in Q3; however, this proportion is still significantly less than the confidence expressed by either workers aged 55-64 (13%) or workers aged 65+ (3.6%) in Q3.



Despite a modest recovery in trust in company leadership, older workers remain wary of their superiors.

The trust in company leadership index rebounded 5.4 points from 98.5 in Q2 to 103.9 in Q3. However, in Q3, less than 1 in 4 (22.9%) workers aged 65+ expressed trust in their company's leadership, even after a quarterly increase of 5.3 points from 17.6% in Q2. Even more surprising, trust among workers aged 35-44 experienced the largest decrease of the quarter, dropping 4.8 points from 60.5% in Q2 to 55.7% in Q3.
To view the entire study, visit www.Yoh.com.