Featured Story in the Chicago Tribune
By Rex Huppke • Contact Reporter
With Chicago workers feeling more positive, companies are wise to keep focusing on culture and care.
At a glance:
Recent

studies reveal upward trend in the optimism of American workers is at a record high

Companies are increasingly interested in creating a more positive environment where they're much more employee centric

Promoting a feeling of connectedness and taking other steps to keep workers feeling positive becomes even more important as the job market grows stronger
This column is about positivity, so to get myself ready to write, I summoned optimistic thoughts, gave myself a hug (that part was tricky), looked on the bright side of many things and spent time in my happy place (in bed, with the covers pulled over my head).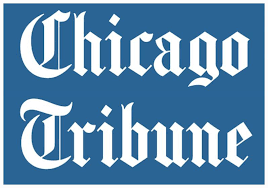 Positivity preparation complete, I pondered one of the most significant findings in this year's Top Workplaces survey: Chicago workers are feeling more confident and optimistic than they have in many years on issues ranging from job security to the likelihood of an upcoming promotion or pay raise.
While the Chicago data on positivity was ahead of other parts of the country where Workplace Dynamics surveys, other studies have shown a broad upward trend in the optimism of American workers.
The 2015 Federal Employee Viewpoint Survey by the U.S. Office of Personnel Management found that more employees "perceive their agency conditions as conducive to engagement, describe their workplaces as inclusive, and report satisfaction with their jobs." The agency also noted that scores on nearly three quarters of the survey showed a positive increase government wide from the previous year.

Randstad, a human resources services provider, has tracked employee confidence since 2004 and reports that this year's confidence measures are record highs.
Jim Link, chief human resources officer for Randstad North America, described one of the key drivers of rising confidence: "Employers of all sizes, big and small, are much more interested now in engaging their employee population, and also engaging people in the general world out there about their companies and what their companies do. Companies have spent more time, money and energy around that engagement factor than they ever have in the past."
Dylan Minor, assistant professor of managerial economics and decision sciences at Northwestern University's Kellogg School of Management, had a similar observation.
"Definitely what I've seen in my work is that companies are increasingly interested in creating a more positive environment where they're much more employee centric," he said. "Part of it, interestingly, has to do with the advent of data analytics. As more and more companies are trying to do different things to help their workers feel better about what they're doing and even monitor how they feel about what they're doing, they can now actually generate some statistical evidence that shows that these initiatives are helping."
Thad Wong, cofounder of @properties, one of the companies on this year's Top Workplaces list, said the improved economy is certainly increasing the overall confidence of workers everywhere, but he credits increases in positivity among people in his workforce to a single strategy.
"Development and maintenance of our company's culture, we put that first and foremost before everything else," Wong said. "Even during the economic downturn, that was probably the period where culture was even more important. Being a part of something was very important. We wanted to make where you are each week an important part of your life."
The company has a philanthropic arm — @givesback — that allows employees to help others in the community.
"Getting out of ourselves and outside the growth of our own organization, that has helped a ton in bringing us together," Wong said.
Other approaches range from simple — recognizing every employee's birthday or anniversary with the company — to more complex, like the creation of an internal platform that allows anyone in the organization to communicate ideas and share opportunities.
Speaking of focusing on and nurturing the @properties culture, Wong said: "It was probably the smartest thing that we put money and energy into during the downturn. There are costs associated with doing things like this. A lot of times people will look at the cost of an effort or an event and look at the responses and reactions derived from that specific event. We believe you have to look at things cumulatively and you try to grow them instead of looking at the cost of a specific action. There are some investments where it's impossible to derive the return, because it can't be exactly measured in profit, it gets measured in spirit."
That's what I like to hear. As companies shift to more employee focused management styles, it's important to take the long view and trust in the benefits that come from treating people well and giving them a sense of place and mission.
Charles Rutenberg Realty in Naperville is a very different type of business than @properties. The company provides the real estate agents it brings in with an infrastructure that helps the agents run their own realty operations. Agents are not the same as traditional employees but part of what landed Charles Rutenberg on the Top Workplaces list is focusing on the needs of those people and making them confident that they can excel.
"Our philosophy has always been, 'How can we provide the services, the responsiveness, the availability to our agents so they can run their realty businesses,'" said Ray Zabielski, the company's managing broker. "The thing they really like is we fully respect the agents. Many times companies feel like the company is more important that the agents who are with them. Our philosophy is that the agents are critically important. They sense that respect."
Charles Rutenberg has nearly 900 agents, up from about 800 in April. As the real estate market has improved, Zabielski said his company has stayed focused on what it can do to keep agents and
other employees happy.
Brokers keep open lines of communication, making sure they're available for any question or to assist the agents in any aspect of a deal. The company also has a private group run through Yahoo that warehouses thousands of questions and answers on all aspects of the realty business. Zabielski himself reviews all questions and answers before they're posted.
The site also facilitates communication between the company's agents, a benefit for those who are often on the road or working remotely.
"When you have this communication on a regular basis, it helps," Zabielski said. "You feel part of a group that's bigger than yourself. You feel connected with the company."
Matt Rivera, vice president of marketing and communications at Yoh, a talent and outsourcing company, said promoting a feeling of connectedness and taking other steps to keep workers feeling positive becomes even more important as the job market grows stronger.
"Companies are realizing they need to do more to keep people with their companies," Rivera said. "If they feel more stable and confident in their company and they're engaged, it will be harder to recruit them away. People are looking at what a company is doing to engage them, to retain them.
They're more educated on what a good work environment is, what a flexible work environment looks like. If optimism continues, one would think it's going to be harder to lure people away."
Minor, the managerial economics professor, said: "We know companies are doing better, so it's an easier time to sell, if you will, the idea of investing more in your workers to make it a great place to work. More than ever, they should be thinking about that. The good news for workers is I think it's gotten to the point where you can make a good business case that this is just a smart thing to do."
Wong, of @properties, put it this way: "The reasons we were doing it were different each time. During the recession it might have been to lift spirits. Now that there's a recovery, spirits are higher and we need to focus on retention. Our cultural development, our philosophy, our feeling of belongingness is important for different reasons. There's more competition, there's more opportunity, so our culture is being used for a different reason. I think that will ebb and flow with the economy, but there will always be benefits in cultural developments and defining who you are
as an organization."
It's that kind of thinking that's creating more positive work environments and, in turn, more positive workers. As Minor said, I hope companies recognize that it's smart to make sure employees are happy, engaged and optimistic.
The evidence of good outcomes is clear. And that's something we can all feel positive about.
Twitter @RexHuppke
Copyright © 2015, Chicago Tribune