October 14, 2014
Philadelphia Marriott Downtown 1201 Market Street Philadelphia PA 19107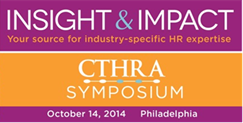 Who Should Attend:
CTHRA's annual Symposium is the source for industry-specific HR knowledge. In fact, one of the elements that makes the Symposium special is the fact that it is developed by industry HR professionals for industry HR professionals. Through varied Symposium sessions led by notable HR Cable executives, attendees will gather valuable examples of how to overcome specific challenges and leverage opportunities in managing your workforce, as well as look ahead to the future. The 2014 Symposium is made possible by Yoh and other generous sponsors.
About CTHRA
The Cable and Telecommunications Human Resources Association (CTHRA) is the premier human capital resource for the industry and a growing nonprofit organization with more than 1,600 members spanning 80 companies. CTHRA provides industry-specific benchmarks, information and resources, as well as networking and educational opportunities. Its groundbreaking initiatives include compensation, employee benefits, and human capital metrics surveys, an Annual HR Symposium, roundtables and webinars.
For more information, visit www.cthra.com.