DOWNLOAD: WHY YOUR STAFFING SUPPLIER'S TECHNOLOGY MATTERS
From office supplies to staffing services, when you stop to think about it, your supplier's technology becomes your organization's technology. Today's savviest procurement professionals understand what they are buying, but stop to consider how it will seamlessly integrate with their company's existing technologies.
Download this short white paper for expert tips on how to evaluate and assess what you are really buying into.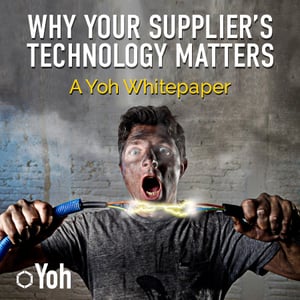 THIS WHITE PAPER WILL HELP YOU:
Define and drive technology ecosystems within your business
Understand and better interpret data
Differentiate between buying staffing solution services and technologies