ARTIFICIAL INTELLIGENCE: CUTTING THROUGH THE NOISE
Recorded Webinar Hosted by HRO Today & Yoh
Expert Guest Speakers Dimitris Papageorgio & Mike Dachenhaus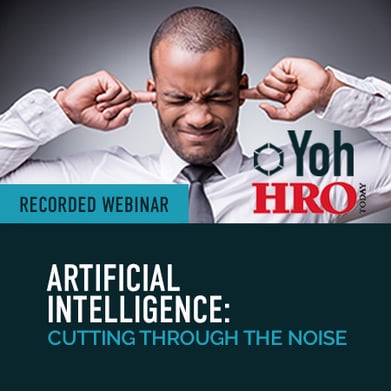 You've been hearing the term Artificial Intelligence for some time now, but with so much noise around the topic it's hard to truly understand its meaning and application. This webinar will discuss in depth the changing landscape of Artificial Intelligence and intelligent automation, where you can incorporate it into your talent management strategies and some best practices for implementing.
Learn tools and tips first-hand from leaders in the industry who are trailblazing in the areas of AI and advanced automation. With real-life case studies, and examples, you will gain a better understanding of how organizations are applying what they've discovered to enhance candidate and employee experiences.
WHAT YOU'LL LEARN:
Learn the practical understanding of AI and intelligent automation, and what it truly means for talent management strategies, including Block Chain, RPA and Chat Bots.
When technology is properly implemented it can enhance experience, speed and accuracy, and help shift the focus of the talent advisor on what requires a human touch, thought and intellect.
Define the impact and value proposition that drives your strategy and investments in AI and automation. Understand what tasks are right for automation, the process, budget needs for implementing and how to course correct when necessary.
How even the small wins with AI and automation can make a huge impact on your organization.
Watch the Webinar
WEBINAR SPEAKERS



DIMITRIS PAPAGEORGIOU
EY
Principal - FSO HR Transformation
Dimitris is a Global Business Services innovator, with lengthy background in managerial and executive positions in the US and abroad. Offering expertise in Global Payroll, HR Transformation, Global Shared Services Strategy and Digital HR implementation. Presently leading Intelligent Automation Services for People Advisory Services in the Americas. He is a founding member of EY 's Payroll Advisory practice and creator of EY's Global Payroll Survey and Global Intelligent Automation COE.

MICHAEL DACHENHAUS
Yoh
Director of Operations, RPO
With nearly 15 years of industry experience, Mike Dachenhaus has consistently brought value to clients by evaluating and transforming recruitment processes through re-engineering, technology selection and implementation, and project management expertise. His expertise with emerging recruitment technology, sourcing strategies and operational effectiveness have produced countless cost savings and increased recruitment performance. He is also a recognized talent acquisition thought leader and has led the successful transformation of numerous talent acquisition delivery programs.