THE ESCLATING FINTECH TALENT DROUGHT
Finding & BUILDING A HIGHLY-SKILLED TEAM IN THE EVER-EVOLVING FINTECH INFRASTRUCTURE MARKET
The Fintech revolution is no longer limited to the financial services sector. From the smallest startup to the world's largest companies, organizations are finding new ways to infuse Fintech offerings into existing customer touchpoints. The industry has grown up in a big way, and technology companies have become heavy hitters in the financial services space. Call it Fintech 2.o.
Fintech 2.0 is changing how a range of people and businesses interact with their finances. It's creating new revenue possibilities and driving new demand for Fintech expertise and experience at organizations in a growing number of industries.
Download this new eBook to learn several Fintech categories worth keeping a close eye on as well as key considerations for finding an innovative and impactful Fintech team!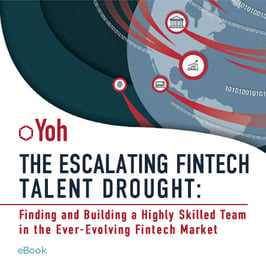 THIS EBOOK WILL HELP YOU:
Learn which Fintech offerings to watch
Find a partner who can deliver a team with the right balance of talents and experience
Stay updated on the future of Fintech