RPO WEBINAR: SCALING YOUR WORKFORCE WITHOUT SPINNING OUT OF CONTROL
Learn how to leverage Recruitment Process Outsourcing (RPO) to seamlessly scale out of rising and falling hiring demands.
Getting hit with one too many unexpected job requisites? Watch this recorded webinar for a breakdown of Recruitment Process Outsourcing (RPO) models that are empowering today's talent acquisition leaders to effectively scale their recruiting resources to meet fluctuating hiring demands.
Download the recorded webinar and presentation deck for a breakdown of the varying types of RPO models, how they work and a use case to help you determine why you would select RPO.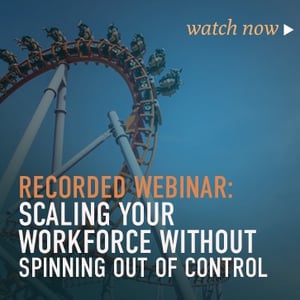 KEY TAKEAWAYS:
How RPO helps you scale hiring resources during peak or down periods and business cycles
The financial and resource-based benefits gained by RPO shared services
The different types of RPO models; including pricing structures
About the Presenter
Katie Duffy brings over 15 years of corporate staffing and recruiting experience to her role as a Director of Recruitment Process Outsourcing (RPO) for Yoh. She currently serves and leads a number of full RPO engagements for Yoh's globally-based clients.
Katie is well versed across several operations and delivers top-tier management capabilities including: large account development and administration, talent strategy, innovation and deployment, start-up expertise, recruiting and resource management, and expert professional recruiting staffs guidance.