USE OF AUTOMATION AND ARTIFICIAL
INTELLIGENCE IN LIFE SCIENCES:
WHAT IT MEANS FOR THE FUTURE OF HIRING
Artificial intelligence (AI) is significantly transforming our world. It's simplifying how we connect and communicate through automation, machine learning, and other AI tools. The potential of AI within the Life Sciences sector is evident. It can forecast medical conditions, revolutionize drug development, and improve the coordination of healthcare treatments.
Explore this resource to determine how to hire the right AI talent for your team. Determine which AI skills to prioritize when hiring, identify skills that can be developed over time, and plan for scaling your Life Sciences team to meet the future challenges AI presents.
Download our eBook to access valuable guidance for successfully developing a skilled AI and Life Sciences workforce.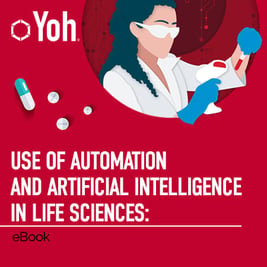 THIS EBOOK WILL HELP YOU:
Attract AI Talent Experts
Explore AI's Influence on Life Sciences
Recognize Obstacles and Opportunities in AI within Life Sciences
Analyze Hiring Trends Linked to AI Capabilities
Fill out the form to Get the eBook