FREELANCER PAYROLLING SOLUTIONS
The demand for freelance talent is growing -- and, fast! But how do companies obtain the right talent while navigating the potential risk in leveraging this group?
Companies are looking for the best freelancer talent because from a cost-savings stand-point, it makes sense. However, making sure freelancers can be quickly engaged when needed, paid efficiently and administratively managed creates a nightmare for many companies.
Learn how and why many companies are opting to outsource payrolling programs in this eBook on Freelancer Payrolling Solutions.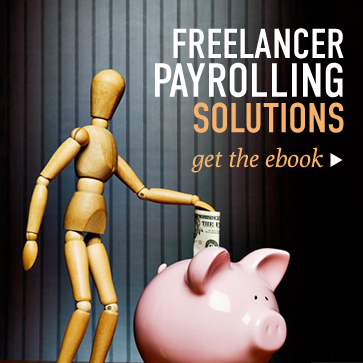 WHAT'S INSIDE:
How third-party payroll vendors eliminate risk and increase the caliber of freelance candidates.
A breakdown of freelancer payroll services and how they work in an organization.
The best practices for using a third-party freelance payrolling services.
How businesses are benefiting from these engagements today (with actual examples!)