CLIENT SUCCESS:
OASIS PRO MARKETS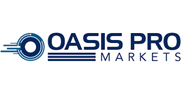 Oasis Pro Markets has developed the first US-regulated alternative trading system ("ATS") authorized to allow subscribers to trade digital ("blockchain") securities and make payment for those digital securities in digital cash (i.e., stable coins) or fiat. Their digital onboarding process reduces the complexity of opening client accounts for accredited and institutional investors and offer connectivity for buyers and sellers to transact in alternative investments.

As Oasis continued to grow and expand, they needed to a new VP of Product Management to help take their platform to the next level. Oasis turned to Yoh's Fintech team to help source the most experienced, forward-thinking product leader who understood their market and would enhance their culture. Oasis knew the value that Yoh's Fintech team could provide and tasked us to fill this key role for them. Yoh successfully provided several high-quality candidates from which they were able to hire their new VP of Product Management.
About Yoh's Fintech Practice:
Yoh's Fintech Practice is a specialty Fintech Consulting practice that offers Specialized Technical and Business staffing solutions, and Technology Consulting services. Our clients include Fintech startups and scale-ups in the Digital Banking, Global Payments, Lending Wealth/Investing, Embedded Finance, Fintech Infrastructure, Regtech, and PropTech sectors.