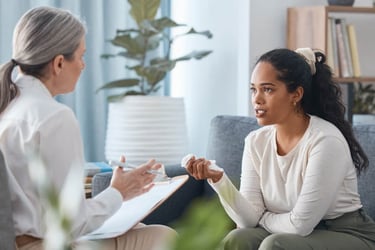 Did you know women comprise roughly 80% of today's healthcare workforce? Women's strong representation in healthcare, as well as healthcare recruiting, ensures that the workforce reflects the diversity of the patient population and can help promote gender equity in healthcare.
This March, we're celebrating Women's History Month by gearing our podcast to highlight women making strides in the lucrative fields of Technology, Life Sciences, Healthcare, and Engineering. In this episode of our four-part Women at Work podcast series, our host, Joe McIntyre, and Yoh's Director of Healthcare Practices, Christine Torres, explore the topic of women in healthcare.

LISTEN TO THE FULL PODCAST EPISODE
CHECKING THE PULSE ON HEALTHCARE DIVERSITY
Joe and Christine kick off the podcast by diving into the history of women in healthcare. Christine shares that, previously, women mostly held administrative or HR roles, and only a few held Sales or Recruiting titles. An interesting fact that Christine reveals is that "Even though women make up 77% of the worldwide healthcare workforce, only 25% are in positions of power." That's because women have more difficulty landing positions of power than their male counterparts due to roadblocks that men tend to bypass.
Christine believes that women thirst for knowledge and challenge and thrive when collaborating with others. They often strongly desire to make a positive change or impact on their workforce and related industries. Throughout history, women have proven time and time again that they deserve a seat at the leadership table. Adding women to healthcare leadership allows patients to receive more in-depth, quality healthcare. According to Christine, "That means we must continue to raise the bar!"
RECRUITMENT STRATEGIES TO ATTRACT & RETAIN WOMEN IN HEALTHCARE
When asked how to attract a diverse talent pool, Christine shared that listening is an essential quality. Everyone has opinions and a voice that should be heard, and she knows the importance of listening to clients' pain points. In our industry, we call it the 20/80 rule, which is 80% listening, and 20% responding. Christine highlights that, although she's a salesperson at heart, she mainly considers herself a consultant.
In addition to the quality of listening, Christine comments that being honest, empathetic, detail-oriented, and adaptable also goes a long way from both the perspective of candidates and clients. Christine believes, "You're a creator of your own destiny." She often encourages her team to "Make it your own while being unique and different. It's okay to be different because you'll be memorable." As a parent and caretaker of three children, Christine advises women in healthcare recruiting to balance, stay organized, and have a sound support system at work and home.
balancing the needs of the employer vs. job seekerS
Some clients have sky-high expectations for what they're seeking in a candidate. In staffing and recruiting, we call that the "purple squirrel." To combat this, Christine explains that she provides alternatives to satisfy the client's needs. This is where her "consultative approach" mindset comes into play. According to Christine, match-making is the best phrase to describe what she and her healthcare team do. Clients come to us because we're knowledgeable about the market and the candidate pool. There's a level of mutual trust where we can be honest with them and provide transparent feedback so that nobody's time is wasted.
On the candidate front, surveys within our organization have shown that remote workers are more productive, happier, and less stressed, with significant positive effects on their work. A flexible work-life balance is vital today, which can be achieved with flexible work policies. We also found that 1-in-3 candidates prioritize flexibility in their job search, even above a really great salary. Christine says we need to continue that, even in the Healthcare space, where possible!
The last essential step Christine mentions in mastering the client-candidate balance is a thorough job intake meeting, which includes touring the facility and meeting the team. Finding the perfect candidate is now about more than just education and experience. Personality is equally important. Christine states, "If I'm not able to see the environment myself and talk to the teams, how am I expected to sell a product?" We aim to make all parties feel like they have a sense of purpose and fulfillment.
debunking misconceptions on working in healthcare
In her many years within the healthcare recruiting space, Christine has heard every myth or misconception related to working in healthcare. Believe it or not, there's a wide variety of jobs, duties, and settings to work in within healthcare – some of which candidates tend to overlook. Christine says, "It's not uncommon for healthcare workers to work a 9-5 shift during the week." This means the misconception that new nurses must work the 'night shift' isn't always true.
In addition, Christine mentions that most jobs don't involve direct patient care, contrary to popular belief. There are administrative or case management roles, as well as Occupational and Environmental Health, which became increasingly popular following the COVID-19 pandemic. In fact, the pandemic opened many doors for healthcare professionals, like creating more opportunities and experiences for new nurses and raising the bar across the industry.
why would a candidate choose yoh over other recruitmnt firms?
Yoh has been instrumental in promoting women in healthcare recruitment. Roughly 85% of Yoh's Healthcare practice is made up of women. Christine has held many positions with Yoh and gradually rose to a leadership title within the organization. She started as a Recruiter and quickly transitioned into a role centered around Business Development and Sales. From there, she leveled up to Manager, then Director and Team Lead.
Christine's personal experiences throughout her career have made her a first-hand witness to Yoh putting diversity, equity, and inclusion into action. Christine also shares that many of her female counterparts at Yoh experience the same uncapped growth potential. In addition, Christine's close relationship with Yoh's leadership, including our CEO and President, make her voice ever-present in the company culture.
Listen to the full podcast episode
Christine's final takeaway is, "We need to continue to invest in our healthcare employers and employees, as well as ensure the importance of making them feel accepted, supported, and invaluable." Learn more about how women are making massive strides in the Healthcare field by listening to the full podcast episode. Tune into our other Women at Work podcasts, where we interview women making a significant impact on life sciences, tech, and engineering.