YOHFLEX
Respected, Subject-Matter Experts + Trust = Flexible Schedules and Empowered Employees
YOHFLEX
WORKING AND LIVING WITH TRUST, RESPECT AND FLEXIBILITY
The YohFlex approach to working in our local branch offices is meant to provide teams with the ability to have autonomy, while staying connected, being healthy and having fun.
We work to hire and develop credible, respected, subject matter experts in our Specialty Practice local businesses. Then we trust and empower YOU to work according to a schedule that meets your needs, the teams and the business . We believe this flexibility leads to happier employees and greater success!
THE YOHFLEX FACT:
Who is Yoh?:

Experienced, credible, recruiting professionals finding and connecting with great talent in specialty areas

How We Work:

YohFlex is our model of trust and respect for our local office sales and recruitment teams

What We Believe In:

Connected, collaborative, inclusive and diverse teams who care for and support one another

Who We Serve:

Companies changing the world who need high-impact talent, large and small, start-ups, pre-IPO to Fortune 500

Why?

Because the world needs more great talent!
OUR DEFINITION AND PHILOSOPHY:
Yoh Flex: Employees are empowered within reasonable operational parameters of the business to choose their work environment. Each employee can decide where they want to work and their schedule. At Yoh, employees will enjoy more autonomy and better work-life balance, the result - better engagement!
We Come Together with a Purpose
YohFlex includes "Collabor8 Days" where once a month the team gets together to connect, collaborate and have some fun. These days will include a bit of structure, just to make sure we get the most of our time together. Some days will be planning others will include training and collaborating, but always fun and with a purpose.
How YohFlex Works
Yoh corporate & branch office locations will be available to all employees five days a week for a local presence and a place for you to work.
Employees may choose to work from an office, in-market remote, or a hybrid approach. This means from home, in the office or a combination of both.
'Collabor8' Days are the way we ensure connection and collaboration with our peers. Once each month (or more days as necessary), employees will gather in-person at corporate or a branch office. Employees that are beyond a reasonable commute will engage via Zoom.
New hire onboarding, training, and Yoh Academy participants will utilize locations to drive assimilation, learning, and engagement.
Additional in-person days may be required based on business conditions.


One Day a Month - That's it!
This is not just words or a temporary reaction to the pandemic. We learned that our team members can be productive without coming into an office every day. We also know some people need time face-to-face or a quiet place to work. In short, we learned that one-size does not fit all. So having a corporate mandate for "in-office" didn't make sense. The YohFlex model means that when starting out, you may need more face time, or when starting up a practice or with a group of very new team members. For others, the once-a-month Collabor8 Day may be all that's needed. You still have calls, Zoom meetings, Instant Messaging and other ways to stay connected.
It's About You - It's About Respect
Joining the Yoh Specialty Practices team means that you are looking for something more than a job. We are looking for team members who want to specialize and learn more about technology, health care, engineering and life sciences, not just recruiting for anything. We want our team members looking for a meaningful career and living a full and healthy life.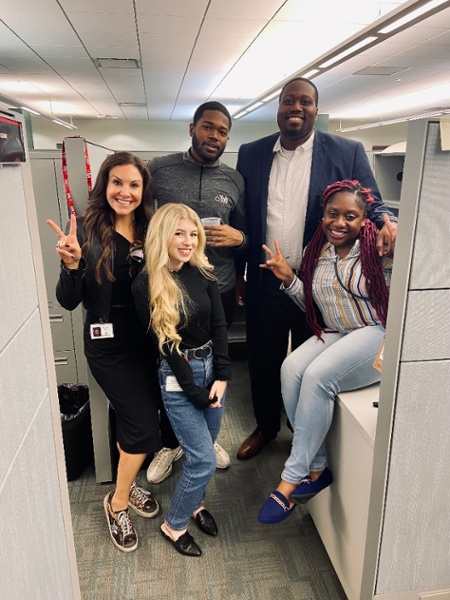 Scott Faktor
SVP, Specialty Practice
YohFlex and Collabor8 days are our way of ensuring our employees are working and living with balance, respect, flexibility and fun!