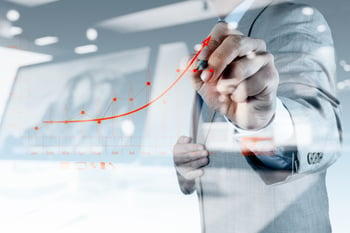 RPO can be beneficial to most industries in many different ways. Whether it's a financial service company, a manufacturer, a high tech organization or a retailer, RPO can be the solution.
What Makes RPO Successful?
The reason why RPO, or Recruitment Process Outsourcing, is so successful in multiple industries is because of its ability for customization to meet the needs of any client. Let's say your client is in the Retail Industry, how exactly can RPO help you?
Let's break it down to the top five benefits.
5 Ways RPO can Improve the Retail Industry
1. Keeping Up with Seasonal Demand
The retail industry has seasonal hiring demands throughout the year and it varies by the type of retailer. During the holiday season big-box and clothing stores increase in hiring to keep up with demand, then in the spring and fall, hardware stores increase in hiring as well. So what's the issue? These organizations don't have flexible resources on hand to meet the demand. One of the major benefits of RPO is a scalable solution to meet those hiring demands when needed. With RPO, a model can be built that adds resources and removes them throughout the year. For this type of model, each team member is cross-trained on the company values and culture to match the best candidate with the client.
Candidate talent pools are created which means that potential candidates can be engaged through technology. These pools keep potential candidates engaged and informed about the company on deals, sales and future hiring needs. Also, different variations of candidate pools can be created. For example, a college student talent pool can be a useful resource to find talent during the holiday season when students are typically on break. So when the hiring demand does increase there's already a pool of candidates' interested and the hiring process can move quickly and efficiently.
2. Store Manager Efficiency
The store manager is typically responsible to keep the store fully staffed which can be a lengthy and time-consuming process and that's just one of the many responsibilities they have. By outsourcing the recruiting process, this will take the full responsibility of hiring off the store manager's plate, allowing them to focus on running the store. They'll be able to have more availability to interact and mentor their employees which benefits everybody. More time spent on training employees on processes and products creates a more educated and well-rounded employee which ultimately creates a stronger team. Another added bonus? The manager will be able to interact with customers at a higher degree and provide a stronger customer experience.
3. Improving the Candidate Experience
Providing a positive candidate experience is crucial. A bad candidate experience can prevent top talent hires and directly impact revenue. A candidate that went through the process of filling out an application, had a phone conversation, did an in person interview and then never received feedback is a disappointing and negative candidate experience. The candidate experience can also be negative after the hiring process is over. Say there's a bad onboarding process or poor training for the position, both of these aspects can impact a recent hire negatively. It's important to remember that these aren't just candidates, they are also customers. Think of it this way, if that one candidate didn't receive any feedback after he or she put all of that effort into preparing for the interview, next time they are looking to buy something they will most likely go to the competitor and that will impact revenue negatively. An RPO solution can address this issue by providing top level candidate experience with a white glove approach and RPO technology that streamlines the process.
4. Addressing High Turnover
A high turnover rate is always going to be an issue in retail but an RPO solution can help address and lower the rate. A high level candidate experience and providing an environment that allows managers to focus on mentoring employees that an RPO solution can offer helps prevent a high turnover rate. The only issue is that the concern of an employee moving on will always be there because it's the nature of the industry. With an RPO solution, when someone leaves the organization that employee can be replaced with another candidate in a short amount of time by using RPO technology and engaging with talent pools. An RPO solution can dramatically decrease the time to fill a position because there are already pools of engaged talent that know your organization.
5. Lowering Vacancy Cost
One of the best ways to build a business case regarding an RPO solution is to evaluate the reduction of vacancy cost to a retail organization. Looking at the impact of having open positions that need to be filled, how does that affect revenue and customer experience? Not having someone on the floor answering customer's questions can reduce the amount of product they'll purchase. By having an RPO solution that addresses seasonal hiring needs this ultimately allows store managers to be more efficient which helps provide high level candidate experience with a reduced turnover rate. All of these components will drastically cut retail vacancy cost and increase revenue.
The benefits above can be helpful to a lot of industries but they apply to the retail industry in a unique way. Keeping up with seasonal demand and a high turnover rate can be a never-ending battle in retail and an RPO solution can easily increase time to fill to keep up with non-stop change. When a store manager can spend less time on the hiring process they are able to focus on creating a stronger team and a better customer experience which leads to more revenue, plus, the drop in vacancy costs on top of that makes RPO a great cost savings solution. There's always room for improvement and RPO can be a successful solution for the retail industry.