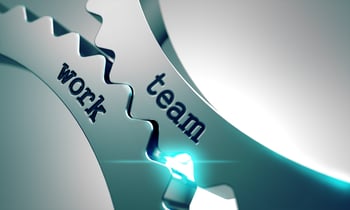 We no longer belong in a one-size-fits-all world when it comes to workforce management. Now, more than ever, agile and flexible solutions went from nice-to-have to a necessity. Managed Service Providers (MSP) need to step their game up and offer more holistic approaches and custom-made solutions for each organization's unique workforce challenges. But to make that dream a reality, it takes the right experience, expertise, and, most importantly, collaboration.
Strategic partners collaborate closely together and that is what makes it possible for workforce solutions to tick together, providing tremendous value to organizations. When choosing an MSP, their technology partnerships and how they integrate them should be top of mind for any organization. In the case of building a Total Talent Solution, this includes innovative direct sourcing software solutions. When partnering with the right Direct Sourcing Solution, organizations can transform their talent ecosystem.
What is a Direct Sourcing Solution?
A Direct Sourcing Solution automates the process to enable organizations to leverage their world-class brand to attract and engage with great talent, without the drawbacks of trying to do it all on your own. With the constant and rapid changes in sourcing strategies and technology, businesses are struggling to compete for top talent. Along with a MSP, the right Direct Sourcing Solution can transform the way you manage your talent.
The 5 Benefits of an MSP/Direct Sourcing Solution Partnership
1. Value
Let's get to the most critical part first; how it can save you money. Instead of looking at it as an extra expense to have your provider partner with another organization, think of it as providing the most bang for your buck. The MSP or Total Talent Solution is the engine behind your staffing program and a Direct Sourcing Solution as your fuel. For starters, Aberdeen Group found that organizations that outsourced to an MSP realized savings 40 percent greater than those that managed the process internally. Combining that with a Direct Sourcing Solution that can use out of the box strategies to feed talent to that program makes your program become faster, more productive, and basically a well-oiled machine.
2. Ease
Some organizations view direct sourcing as challenging and perhaps overwhelming, yet you'll see the benefits far outweigh those concerns, especially when you have partners working together. Let the combined program do the heavy lifting. A Direct Sourcing Solution makes processes more efficient and scalable so you and your team can start to get more strategic. Rather than spend time on the mechanics of sourcing and managing suppliers, let direct sourcing automatically widen your net to find and engage talent where they are, online. Combining that efficiency with a white-glove approach of an MSP provides the soft skills that your contingent labor program needs to bring a human connection to your talent. Therefore, enhancing your employer branding and attracting the high-quality talent you need to achieve your talent goals.
3. Better Data
Enhancing your technology stack to get the cleanest and up-to-date data on your combined program is the key to how any successful program works. The right technology should be plug-and-play, ready to be up and running without much effort. The combined programs will do the prep work, so when an organization is ready to go, the right technology will be set up and ready to go with minimal effort from the customer. The combined program can automate critical processes, enlist analytics, and provide data that helps you make informed business decisions.
4. Speed
If letting go of your internal program is holding you back, know that with an MSP/Direct Sourcing Solution, you will still have as much of a hand in the program. You're still managing what you choose to, but specific processes like compliance checks, onboarding and payrolling are managed by your MSP to improve efficiency and compliance. This speeds up processes that would have taken much longer by an internal team. Adding a Direct Sourcing Solution, you'll find better talent faster from the time of determining the need to the time the candidate is working. They can reduce time to fill, often times over 30%, and when you combine this with the other critical areas that the MSP manages, you'll see better results, faster.
5. Continuous Innovation
It's complicated and time-consuming to keep up with the advances in sourcing strategies. Between job boards, social media, and the various other technologies, consistent candidate engagement can be challenging. With a combined program, you have the best of both worlds - constantly-updated plug-and-play technology to connect and attract the candidates you need, with the soft skills necessary to engage and motivate that top candidate to accept the position. The dedicated combined teams can take best practices from their years of experience working with organizations like yours to optimize your program.

As you can see, the compliance and consistency that comes with an MSP, combined with the savings and added efficiency that come with a Direct Sourcing Solution, really is the best of both worlds. This partnership will grow and evolve together with your organization, helping you achieve your talent goals with ease.
About the Author: Kevin Poll is the Strategic Growth Advisor for Willhire, a Direct Sourcing Platform that can service, attract, curate & engage your contingent workforce by leveraging your employer brand with direct sourcing, building a pathway to total talent management.