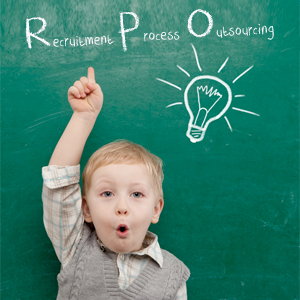 With any business purchase, it's important to build a solid understanding of what you are buying into. Investing in Recruitment Process Outsourcing (RPO) is no different except for the fact this customized service offering tends to produce more questions than it does answers. Time to get to the bottom of RPO definitions, cost models and goals once and for all.

Many organizations are looking for ways to increase their recruiting capability and effectiveness. While some start by accessing and at times, even restructuring their internal recruiting processes, other organizations come to the conclusion that they cannot do it all themselves. Enter Recruitment Process Outsourcing.
---
Looking for real the real benefits of RPO? Download this SlideShare how you can benefit most from Recruitment Process Outsourcing.
---
It's important to understand there are various types of RPO programs you can select from based on your current or forecasted hiring needs. Below is a brief introduction on this subject, but for a full breakdown, download and save our white paper on RPO Definitions, Cost Models and Goals.
What is RPO?
From a baseline level, Recruitment Process Outsourcing (RPO) refers to the process by which a company outsources part or all of its recruitment functions to a third party vendor. This includes a wide range of operations; such as candidate sourcing, screening, interview scheduling and logistics, offer execution, system compliance, and HRIS (human resources information systems) data entry.
RPO Cost Models
Depending on the RPO program, there are many different ways a provider can charge for its services. As such, there are a number of RPO Cost Models that you can select from.
Management Fee Model

Cost Per Hire Model

Management Fee Plus Cost Per Hire

Cost Per Slate

Cost Per Transaction
Each RPO Cost Model supplements a different hiring need. So, how do you choose? The RPO provider can recommend the appropriate model and cost structure, however bear in mind you will have to provide some data upfront. This helps to establish realistic program goals and ensure an ROI on your RPO program.
Goals for an RPO Program
One of the first steps to take when considering an RPO program is to understand what is motivating you and your organization to make a change in the first place. Again, the RPO provider should be instrumental in walking you through this process. Often these goals establish the foundation of the HR Business Case for RPO Services.
Here are a few common questions to ask yourself when establishing goals for your RPO program.
What is the HR or talent acquisition department looking to achieve?

What is our appetite and organization readiness for change?

Has the organization outsourced similar functions in the past? If so, how successfully was the arrangement?

How will we measure the success of an RPO program?
RPO as a talent acquisition strategy continues to gain popularity as the talent market evolves. Increasingly, organizations are capitalizing on what short- and long-term RPO programs have to offer.