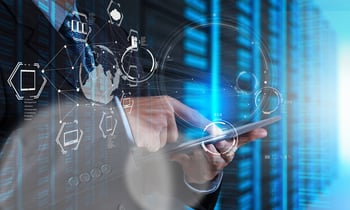 Nobody can deny that technological advancements have completely changed how organizations perform. No matter how big or small, all businesses have been affected by the major technological changes that have taken place in the past couple of decades. Thanks to technology, businesses are able to finish their tasks quicker and more efficiently than ever.
Here are some specific ways in which technology has changed how businesses work.
6 WAYS TECHNOLOGY HAS CHANGED THE WORKPLACE
Better Communication
Technology has completely revamped how people communicate in the workplace, and the Internet has certainly made things a lot easier. Whether you're using different chat apps to communicate with co-workers or different social media platforms to advertise your business – technology is involved.
Technology has increased the level of flexibility in communication. By using technology, employees and managers can easily connect and communicate no matter how far away they are. This encourages teamwork and increases bonding between all workers throughout a company.
Through fast and efficient communication, managing people has become easier. You can easily video call your clients who live in different cities or connect with employees working from home when needed. If you need to revamp your workplace to make it more collaborative, consider hiring an office fit-out specialist.
Keeps Your Office Organized
Besides increasing communication, technology also helps in keeping your workplace more organized. All you need to do is use different software tools that helps you and your employees stay on the same page as one another. Such software can help you review, assess and even delegate work. Overall, using software just makes your business a lot more efficient. Another way to keep your office organized is by hiring an office design company to renovate your office building to give it a new look, which can also help spread positive energy around the office.
Helps in Managing Costs
Every office tries to keep its costs as low as possible. Thanks to technology, companies now have access to more cost-effective alternatives. Companies can delegate some of their work to machines rather than hiring humans to do it., which will save time and reduce costs. Obviously, the work will have to be something a machine is capable of doing, but there isn't much that machines can't do these days.
Technology has also reduced paperwork because nearly everything has been digitalized. This saves paper, which is good for the environment and the company's budget. Skype calls have also helped with managing costs. Now, an employee doesn't have to travel long distances to conduct business, which saves expenses that can be utilized elsewhere.
Increases Productivity of the Company
As communication and efficiency increase, the overall productivity of the company increases as well. With the help of technology, employers can easily track their employees' performance without even leaving their office. You can keep an eye on your employees' goal completion without standing over them or micromanaging, and if you believe something is not on track, you can simply make calculated readjustments. An office makeover that adds new technologies into the workplace can also have a positive impact on employee productivity.
Improves Efficiency amongst Employees
Since technology tends to make things easier, employees can manage their time in better ways. Through the use of technology, missing deadlines has become a thing of the past. Different tools can be used to help employees manage their time more efficiently, and better time management can directly impact an employee's ability to meet deadlines. When an employee is doing good work, they feel satisfied and more motivated. It is natural for employees to thrive in a space where they feel maximum comfort. When employees take less time to do the same amount of work, they can spend more time on developing new ideas and being creative.
Reduces the Risk of Security Breaches
Thanks to technology, most of the sensitive information about a company or an organization is usually online. Businesses that operate online and have no physical presence are completely dependent on technology. This is why hacking is becoming more common – stealing critical information can lead to a severe loss that they might never recover from. Through security technology, this can be prevented and reduced.
Technology plays a huge role in how a company and its employees perform. If your business is still not on board, it's time to invest in the newest technology to increase efficiency.

About the Author: Bryony Shaw is the marketing executive at Spectrum Interior, UK's leading office refurbishment contractors. Her aim in life is to transform as many interior environments as possible into highly beautiful and functional spaces and make all incumbent dysfunctional eyesores a thing of the past. Synchronising the marketing, sales, purchasing and project management teams, she likes to listen to the needs concerning absolutely any interior.