DOWNLOAD: 5 Steps to Reimagining Your Recruiting Process In Times of Change
Learn how to effectively evaluate and improve the recruiting process when you need it the most - in times of change.
The world of talent acquisition is evolving rapidly. Human resources and talent acquisition professionals are asked to do more with less and conquer a wide range of challenges from talent shortages to diversity hiring.
Without strong recruiting resources and strategies, companies will not be able to attract and retain talent to grow their companies. So, what should an organization evaluate when re-imagining its recruiting practices in times of change?
Now is the time to reimagine recruitment and Yoh can help!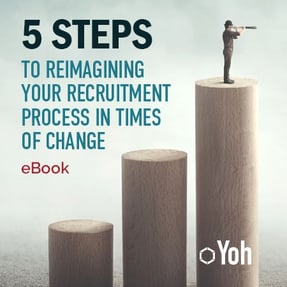 THIS EBOOK WILL HELP YOU TO:
Evaluate Talent Acquisition Processes
Collaborate with the Business & Strategize Hiring Needs
Perform Cross-Functional Analysis of Skills
Employer Brand & Employee Value Prop Positioning
Align Cost to ROI for your Talent Acquisition Program