Download the eBook: Choosing the Right Staffing Solutions
Get the staffing solutions every organization needs to know.
Staffing solutions, from temporary staffing to recruitment process outsourcing (RPO), are poised to explode over the next decade as companies look to reform their ranks and increase the size and complexity of their workforce.
However, selecting and implementing the right staffing solutions has become a tough job for human resources and procurement departments; the two most common owners of staffing programs.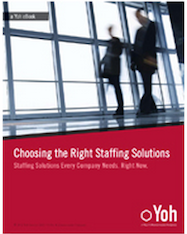 What's inside:

A breakdown of the different types of staffing solutions; including emerging services that you might not have heard of yet.

How and why many staffing solutions fall short

Tips for choosing and implementing the right staffing solution for your organization


The information will help you avoid some of the pitfalls and make a good, informed decision about which staffing solutions will work best for you and your company.